Last July, after taking three years to pick a color, I finally
painted my bathroom
, transforming it from a nightmare in beige to a fiesta of … um … darker beige, acutally. But I think it looks hella-cool, and it no doubt has tripled* the value of my condo.
*Or not.
I took pictures right away to post here and share with all of you, but I got distracted by … um … the way Ann Coulter looks like a
third-world drag queen
. (Really! Someone please feed that poor hungry man
some cock
—no wonder he's always so irrational and angry.) Anyway, I'm finally making amends and posting bathroom pix here and now, for your early 2005 weekend enjoyment: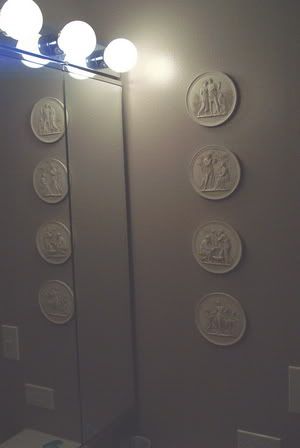 Funny how a darker wall color can transform the look of a cheap mirror from ghetto to fabulous. Really. When my walls were off-white, this scabby old mirror looked like
Ann Coulter
something you'd find next to the condom machine in a truck-stop bathroom. And now the darker wall color suddenly gives it a deep, rich luster*.
*Saving me the cost and effort of replacing it.
And check out the bas-relief medallions I have hanging next to the mirror. They represent the four seasons, and
because I'm too pathetic to have real, actual hobbies
I rotate them so the current season is always on top. True story! In this picture, see, "summer" is on the top, followed (naturally) by "fall," "winter" and then "spring." Whenever you're in my bathroom, you always know what season it is AND which seasons come next, just by reading down. Except for right now. Because I haven't changed the medallions since I took this picture. In July. (That would be "summer," for those of you having trouble with the math.)

How much do I love this stencil? Let me count the ways: 1) It looks funky, retro, modern and tribal all at once, with a dash of Keith Haring flavor thrown in as if to say
Hey, I'm kinda gay here!
2) The pattern has no discernible beginning or end, so I didn't have to measure and center and fudge and worry about balance and how it wrapped around the corners. Things like that keep me up at night. 3) The stencil pattern, paints and brushes cost less than five bucks. 4) The whole stencil process took like 30 minutes. 5) It's the finishing touch that makes my bathroom look like a high-end day spa. If you squint real hard.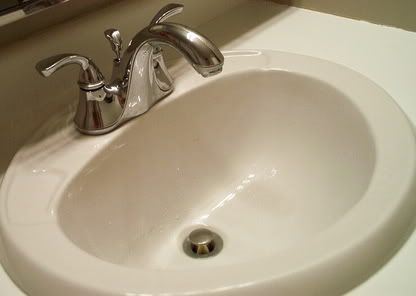 In addition to hating my bathroom walls, I also REALLY hated the sink. The sink bowl is a mousy-blah light gray with a utilitarian round shape designed to complement the décor in any prison or livestock housing facility. But it was in good condition, and replacing it was more work than I cared to take on. So I simply replaced the faucet with a curvaceous piece of hardware that was a
bitch
to install—though it gives the sink's roundness a sense of holistic purpose and elevates my whole bathroom experience to something approaching cosmic meaning. (And if you look closely, you can see that I took this picture with my shirt off.)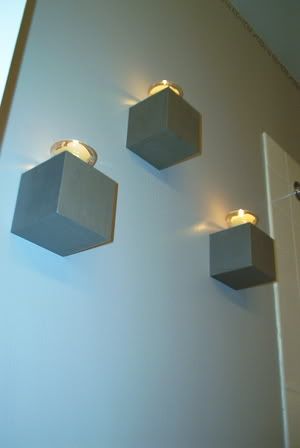 These fabulous little candle shelves were made by my spectacularly handy ex, Jeff. I'd seen shelves like these on the
Queer Eye episode
where the hunky little monkey boy with the bad breath was afraid to walk down the runway with his purse-designing wife. I'd looked all over for similar shelves, but they were nowhere to be found. So Jeff came to the rescue, making a bunch of them from scratch for me. He totally rocks.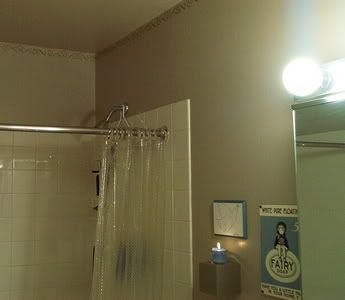 A view of the finished product. The slogan on the Fairy Soap sign asks "Have you a little fairy in your home?" I bought it because I think cleanliness is the most important virtue (right after
voting for my bloginess
), and I live to preach the gospel of soap to the unwashed masses. Too bad the people who need it most—like that bitch
Ann Coulter
—are banned from my bathroom and will never get to see it. (Hey, a man's gotta poop—and with people like
him
her in the room, all holes clamp shut in instinctive self-preservation.)