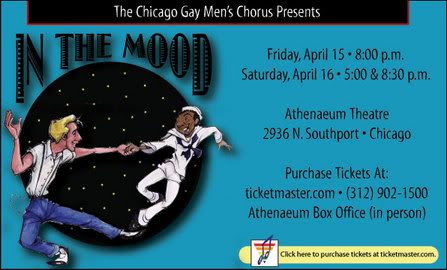 Spring is here, and the Chicago Gay Men's Chorus is in the mood to put on a show.
Fortunately,
In the Mood
IS the show—and, cheap puns notwithstanding, it's going to be packed with all the great music, subversive fun and dubious taste that audiences have come to expect from the chorus.
In the Mood
pays homage to everything 1940s, from saccharine war movies to crooning balladeers to swingin' big-band standards. It's all burnished with CGMC's velvety vocals, and some of it is even slightly tarnished with CGMC's signature irreverence.
"This is a big show," warns CGMC Artistic Director Patrick Sinozich. "We've packed it with so much music and so many dance numbers that we had to get
three
choreographers. And we still found room to squeeze in an Ann Miller tribute."
In addition to a 21-gun arrangement of its title song,
In the Mood
also features great 1940s-era tunes like "One O'Clock Jump, " a saucy "Something for the Boys," a hyper-patriotic "Praise the Lord (and Pass the Ammunition)" and even a sexy "Stuff Like That There," which was immortalized by Bette Midler in the movie
For the Boys
.
In the Mood runs Friday, April 15, at 8:00 pm and Saturday, April 16, at 5:00 and 8:30 pm
in the historic Athenaeum Theatre, 2936 N. Southport. Tickets are available in person at the Athenaeum Box Office and via
Ticketmaster
(312-902-1500). There's also a link to ticket information at the
CGMC Web site
.
The Chicago Gay Men's Chorus has been an integral part of Chicago's cultural and gay communities since 1983. For the last two decades, CGMC has entertained audiences around the country with innovative musical programming, political commentary and tongue-in-cheek humor. Last summer the group sang the National Anthem for the second time at a Chicago Cubs baseball game, and it released its second CD,
I Will Be Loved Tonight
, at its holiday concert last December at the Athenaeum Theatre.
For more information about promoting or supporting the Chicago Gay Men's Chorus, contact the CGMC office at 773-296-0541.
# # #
ADDENDUM: Since this blazingly clever press release written by yours truly will never see the light of day—because promotional press releases never do—I posted it here for my own self-aggrandizement you-all to enjoy. But come see the show anyway! I'm dancing in three big numbers and singing in a tight-harmonied little quartet—and I choreographed a ton of other stuff. But if you don't want to see the show for me, see it for the oily bodybuilders wrestling in the Crisco pit parade of hugely talented soloists and the naughty twists on the music your grandparents used to love. And the man-on-man swing dancing. And the oily bodybuilders wrestling in the Crisco pit.