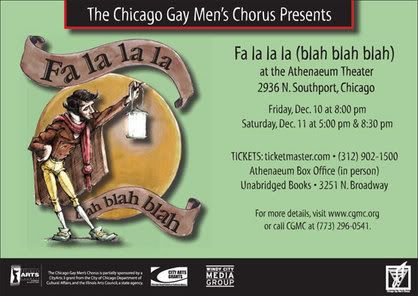 Here are just a few of the reasons you won't want to miss our show:
• A 4-part raise-the-roof arrangement of Handel's magnificent "Hallelujah" chorus
• A 12-part stir-your-soul arrangement of "O Magnum Mysterium," sung in Latin
• "Winter Song," a rousing chorus in the best glee-club tradition with old-school lyrics like "And the ice gnomes are marching through their Norways ..."
• Toy teddy bears and wooden soldiers having a dance-off to impress a little kid (brilliantly choreographed by the always-humble me)
• Colin Farrell having a shirtless Crisco fight with Brad Pitt*
*Pending legal approval and contract negotiations
True to form, Ticketmaster has made it weirdly difficult to find our concert on its site, but
here
is the link.
Insider tip: You can usually get the best seats at the 5:00 Saturday show. You can thank me later.
Our holiday show always sells out, so get your tickets soon! Act now! Go! What are you waiting for? Get clicking! Shoo!