I always keep a to-get-rid-of pile in the corner of my bedroom, where I slowly accumulate things I've decided I'll never wear again. I typically wait until the pile gets big enough to fill a shopping bag, and then I take a trip to my friendly gayborhood
Brown Elephant
, where I drop everything off and return to my slightly roomier house with an always-in-style receipt that I dutifully file in my folder of tax write-offs.
This weekend, though, I played
General Sherman
and conducted a take-no-prisoners march through my sea of pants, shorts, jeans, shirts, shoes and even underwear—and managed to unload a good 150 pounds of stuff I haven't worn (or shouldn't have worn) in years.
Here are all my doomed possessions spread out on my bed: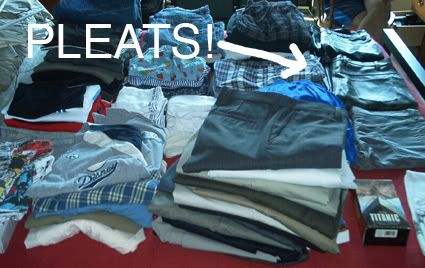 And here, dear friends, is an embarrassing march through some specific items in my Shopping Hall of Shame: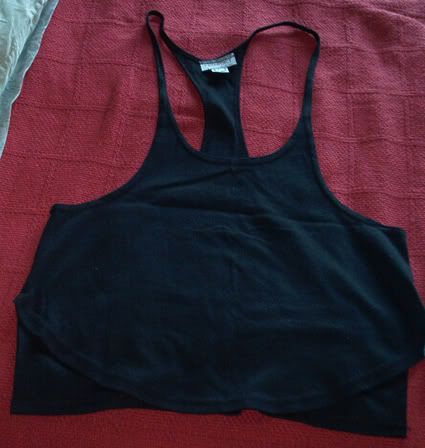 Nothing says
I kiss my sister on the mouth. With tongue.
faster than a string tank. ESPECIALLY a string tank scooped so severely that it doesn't even cover your nipples. While I might not have had the presence of mind to leave it in the discount bin where I found it five years ago, I at least had the presence of mind to never wear it.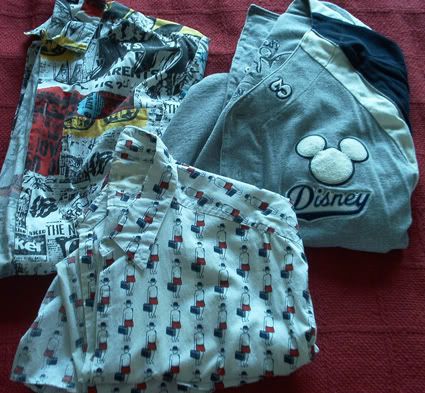 Clockwise from the top left:
Short-sleeve button-up shirt
decorated in newsprint and bold blocks of primary colors. Purchased with my employee discount at the department store where I worked during the summer of 1985. It could not be more '80s if it had epaulets and butterfly sleeves, which, thankfully, it didn't.
Mickey Mouse baseball shirt.
Purchased in the mid-1990s to celebrate a promotion at my last job. Back when I was muscular enough to wear an extra large.
Short-sleeve button-up shirt
decorated with little cartoon men in red underwear and blue bowler hats and carrying briefcases. You can see their nipples. Purchased the summer of 1988 in Buffalo, New York. The guy I was "dating" that summer purchased one to match, if I remember correctly.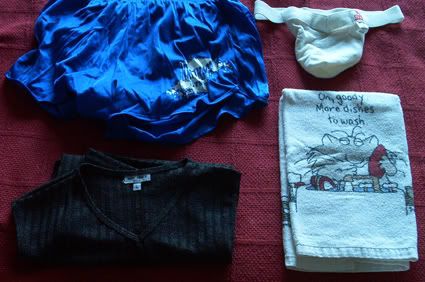 Clockwise from the top left:
Shorty-short short shorts,
ostensibly for running. I got them in trade when I did some free-lance writing for a gym I belonged to around 1992. The managers were too freakin' cheap to pay me in cash. I was too freakin' stupid to never wear them.
The sock.
Yes,
the sock
, International Male's celebrated jockstrap without pantylines. (For the record, either I have some freakin' huge manly parts or the damn thing doesn't do anything to hold any man's boys in place. Or both.)
Dish towel
reading "Oh, goody. More dishes to wash."
It was a gift, people!
Shiny, stripey, kinda seethrough sleeveless shirt
from the house of Hot Spice. Purchased three years ago with the approval of
Mark
. Never worn.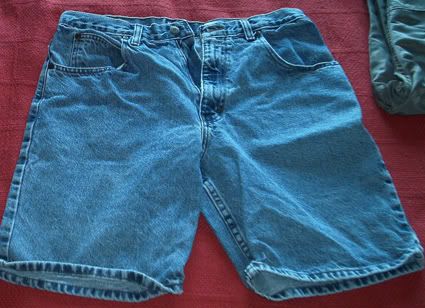 Jean shorts, the hallmark of a society on the decline. Or at least a society not opposed to the idea of incestuous polygamy. But you don't know the half of it: These jean shorts aren't even a respectable name brand. They're Merona. From Target. And I had five pair in various colors, including sage, sand, white and black.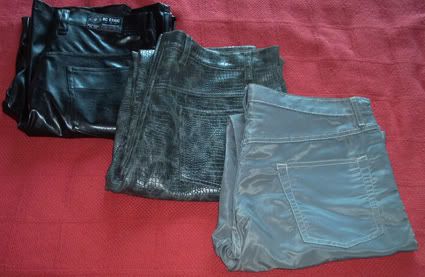 And you thought jean
shorts
were humiliating. From the top left:
Black pleather jeans.
Bought for $35 (on sale!) at Nordstrom three years ago. Worn once—to a showing of
Cabaret
.
Gray snakeskin vinyl jeans.
Bought for half price at a going-out-of-business sale last year. Never worn.
Gray parachute-material jeans.
Same story. (If that clerk was smart enough to sell me
two
pair of loser-ass jeans, why was he going out of business?)
And that, my friends, is enough embarrassment for one day. Please keep your derision and mockery to yourselves.