Go now and
vote
for the bottom left 2005 Chicago Marathon T-shirt option: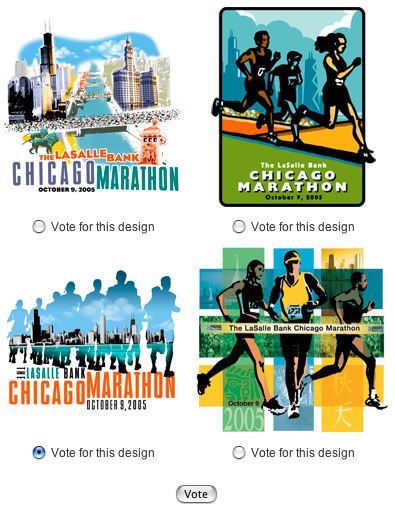 Go on!
Vote!
NOW!
When I wear my marathon shirt, I want people who see me on sidewalks, from passing buses, through the windows on the EL two cars away and even waving from my private Evita balcony to stop and say:
THAT big homo ran a marathon? DAMN!
Last year's shirt design was an abomination before all things right and holy—mostly because it looked gayer than a picnic on a Sunday afternoon: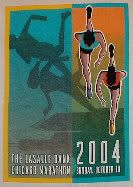 But also because the words "Chicago Marathon" were so small and so dwarfed by the cheesy clip art that wouldn't even get a passing grade in a kindergarten watercolor class that people who saw me wearing it would just think I had on my special shirt I wore for eating spaghetti or wrestling pigs or belly-sliding through shallow pools of industrial waste.
In welcome contrast, the bottom left T-shirt option for this year's marathon is both jock-wannabe cool and readable from across a crowded discount furniture warehouse.
And really, if I sacrifice my knees, my hips, my social life AND my ability to regulate my own poop for a couple weeks in October, the
least
you can do is help ensure that some loser too cheap to pay retail for a recliner sofa will look up from the handwritten tag on a plaid Broyhill scratch-n-dent, grunt to himself when he sees my shirt and think:
Now THERE is a real man. (I wonder if this comes in a beer color.)
SO
VOTE
ALREADY!