So if you missed last month's fabulous
chorus
show, you won't have to wait until our next concert (in December!) to see my big gay ass on stage. Because this Saturday, for one night only
(come on, big baby, come on!)
, I'll be appearing with fellow blogger
Andymatic
in this fabulous musical restaging of the prommiest movie ever written: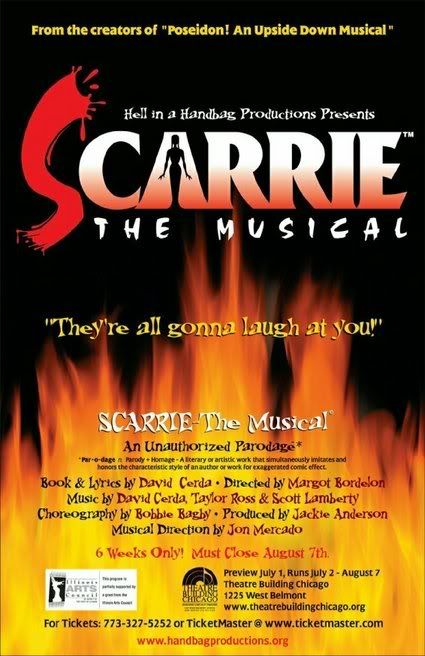 Andy and I are
headlining
starring
passing out programs
doing a custom-written celebrity* walk-on as gay prom chaperones. Gay prom chaperones who MAKE OUT.
* Our definition of "celebrity" here is less about the fact that we write mildly popular blogs and more about the fact that
Scarrie–The Musical
director
David Cerda
is skillfully flattering us into using our blogs for free publicity. I
know
what you're up to, David—and I can
always
be bought with a tube of greasepaint, a follow spot and the opportunity to mash onstage with another married blogger.
Always.
And to prove it, I offer the following shameless plug:
Break out your ruffled dickeys (HA! RUFFLED DICKEYS!), power 'fros and rayon halter dresses and join us this Saturday for the most promtastic, splatterific, man-on-mantastic piece of theater in the known universe. Because if you don't come, we're all gonna laugh at you.