How about with a bar full of homos? The Chicago Gay Men's Chorus is hosting our annual Oscar-watching party/fund-raiser
this Sunday at Sidetrack (3349 N. Halsted)
, and YOU need to be there. Otherwise you'll miss all this:
5:00
Forty bucks gets you VIP access to two hours of food, an open bar, raffles, live entertainment (including yours truly singing in a sparkly shirt) and squatters' rights to the best seats for watching the telecast.
7:00
Doors open to the "general public," which is a nice way of saying "people who don't get the good seats for the Oscars or the chance to hear Jake sing in a sparkly shirt."
7:30
The Oscars start. So do the bitchy comments about the starlets' dresses and Joan Rivers' face. And since the best bitchy comments come from the homos, you'll have a substandard Oscar experience if you don't watch with us.
You can order your VIP tickets in advance by clicking
here
, or you can just pay at the door on Sunday.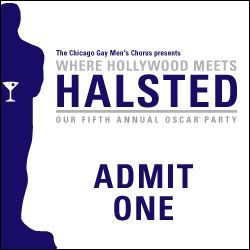 Remember: You can watch the Oscars with your friends … or you can watch the Oscars with your
fabulous
friends. See you there!
More links for your clicking pleasure:
1) The
pictures
are finally up from my
cupid adventure
. I didn't see him there that night, but buried in all those pictures are a few shots of a guy I had a dismally boring date with this summer. Man, I have
never
had to work so hard to make conversation in my entire life. He seemed to be a nice enough guy, but the dude was so quiet and socially mousy that I was exhausted when we were finally done "talking." It's a damn shame a man so boring can be so friggin' hot.
2)
Time
magazine didn't print my
letter
. I'm not really surprised, though; it was a bit off-topic—and the letters
Time
did run focused more on broadly loving or loathing Evangelicals than on addressing specific issues. And since the letters were overwhelmingly in the loathing category, I'm not gonna lodge any formal complaints.
3) Remember:
Oscars with the homos
.