So the Night of the Shirtless Cupids was
less terrifying
more fun than I'd expected. The crowd was lively, the
venue
was way-ass funky and fun, and nobody threw a drink in my face and shouted
My eyes! My eyes!
at the sight of me with my shirt off.
There were five cupids in all, and when we arrived at the bar we all
shamefully confessed to
joked about cramming in upper-body workouts all week and not eating anything all day to get ready for the event.
Three of the cupids in particular I've always thought of as pretty friggin' built, and they were freaking out more than I was at the prospect of being designated beefcake in a room filled with
rabid poodles
fully clothed gay men. They were freaked out enough that they (well,
we
) did pushups and chair dips before they (well,
we
) donned our wings and headed out into the
poodle palace
patron-filled bar.
HEY! Body-image issues are MY department, you sexy fuckers! Get up off the floor and find your own neuroses!
There will be tons of pictures on the
BGCC Web site
by sometime next week, but here's one sneak peek graciously supplied by
Rick
: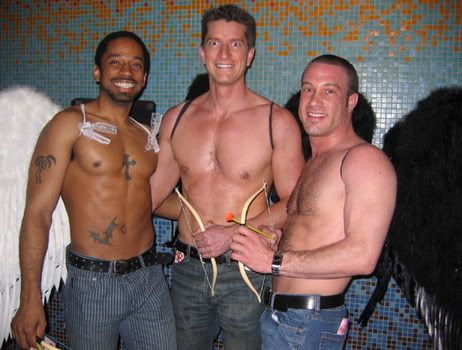 Notice the wicked-cool tiles on the wall—the whole venue was like that. Notice the sheen of
desperation
baby oil on our bodies. (That was my gay-ass idea.) Notice the Dubya-at-a-press-conference look on my face. I think it's the result of oxygen deprivation from holding in my gut for three hours straight.
And notice those huge freakin' wings. They were responsible for many a spilled drink, toppled plant and poked-in-the-eye patron last night.
Speaking of poking the patrons, four of the five cupids reported being invited into one-on-one and/or group-sex situations last night. Not one of those four cupids was named Jake. Harumph.
But the night wasn't all shunnery and spinsterhood for me. I did manage to make a connection and exchange phone numbers with someone there. And it was a GIRL! That's right—if I can't find a way to pick up easy, horny, sloppy-drunk men at an event called the Big Gay Cocktail Club, I can at least pick up women. So the old boy's still got it, thankyouverymuch. Seriously, the woman I met last night was smart, funny, great to talk to and employed in an interesting new field with close ties to mine. We're planning to have dinner soon. And I promise to be a perfect gentleman. Unless she brings a cute guy along.
Speaking of holding in my gut for three hours straight (sorry for this awkward transition—scroll up four paragraphs for the antecedent), I woke up this morning feeling as though I'd been repeatedly punched in the stomach
by four muscular bodybuilders in oily thongs
. It seems that the desperate fear of rabid poodle attacks that forced me to pinch my belly button and my spine together for three hours actually made for a pretty awesome isometric workout.
And if I have to wake up with a burning sensation after a night at a gay drinking event, I guess that's the best kind of burn to have.