to see me on stage in a:
1) Ruffly red shirt
2) Cheesy French accent
3) Saucy little Speedo*
The Chicago Gay Men's Chorus' fabulous
World Tour: Looking for Love in all the Wrong Places
opens tomorrow night for a Limited! Two-Night! Run! And if you don't get your tickets NOW and see the show THIS WEEKEND, you'll miss out on Big-Ass Solos by me AND the boyfriend AND featured numbers with the endlessly talented
Rick
and
Brandon
.
Plus: Guys in Speedos! Guys in dresses! Guys in skimpy little Egyptian outfits! Guys in love! Guys in Istanbul (but not Constantinople)!
*While the ruffly red shirt and cheesy French accent are parts of my Big-Ass Solo, I was not, for the record, asked to be a Speedo guy in this show. Which prompted me to consume a whole box of Little Debbie® Low-Paraffin Fauxcolate™ SnaKakes™. And boy, does my ass feel lumpy.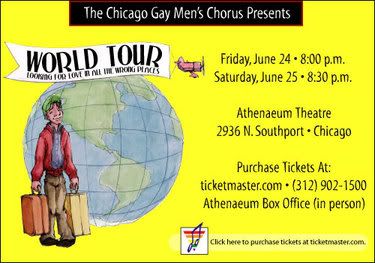 Performances:
Friday, June 24, 8:00 pm
Saturday, June 25, 8:30 pm
The Athenaeum Theatre, 2936 N. Southport
Tickets are available at:
The Athenaeum Theater Box Office: 773-935-6860
(The guy behind the ticket counter is a cranky old bitch who tells everyone (and I quote him verbatim) "There are no good seats left." Ignore his efforts to try not to sell people tickets to the shows in his theater. Buy your tickets anyway—the theater is too small to have bad seats—and then tell him to have a nice shutthefuckup.)
Ticketmaster: 312-902-1500 or
ticketmaster.com
More information:
cgmc.org