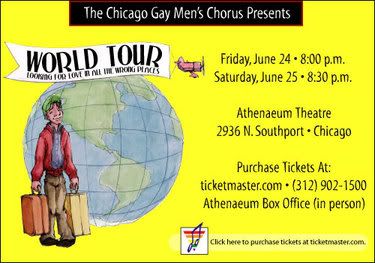 Pride weekend is almost here, which means only one thing:
Inebriated drag queens.
And a big parade.
Oh, and the Chicago Gay Men's Chorus' fabulous season-ending show:
World Tour: Looking for Love in all the Wrong Places
.
And there's still time to dig out your passport, update your shots and
get your tickets
to join us.
Book your seats today so you won't miss our jet-setting search for love (and opportunities to sing and dance and sometimes even take our shirts off) in cities from Paris to Cairo to Holland to Istanbul (but not Constantinople). We'll bring you great music, colorful sets and costumes, a couple guys in Speedos, and our trademark irreverence at every stop along the way. And to show you we're not completely jaded about romance, we'll also throw in a charming little love story.
I even have a solo! I'll be singing a song about speaking French in a bad French accent as a character our director describes as the bastard love child of Maurice Chevalier and Tom Jones.
Quel sexy!
And if I don't see you in the audience, I'll tell everyone you smell like
fromage
.
Performances:
Friday, June 24, 8:00 pm
Saturday, June 25, 8:30 pm
The Athenaeum Theatre, 2936 N. Southport
Tickets are available at:
The Athenaeum Theater Box Office: 773-935-6860
Ticketmaster: 312-902-1500 or
ticketmaster.com
More information:
cgmc.org