I was celebrating Thanksgiving weekend in London (Fun fact! Londoners don't celebrate Thanksgiving. They're
un-American
.) with my friends Matt and Rich. Here's a picture to prove it: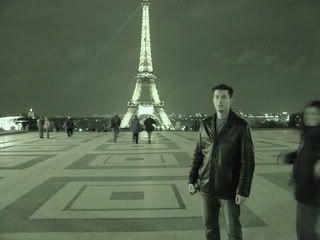 Pay no attention to the ... um ... Leaning Tower of London in the background. They make it that shiny and sparkly to distract you, dear readers, from the real point of this blog post: my leather coat, which I wore on trips to London, Paris and Madrid last year, but the only real clear picture I have of me wearing it is the one above, which I think was taken in Albuquerque. Which is fun to spell.
In any case, I've always regretted buying that coat. First of all, the whole point of a leather coat -- especially one with a zip-in lining that offers an extra layer of insulation -- is to keep you warm. And for some reason this coat keeps me about as warm as a hug from Ann Coulter. Also, the damn thing doesn't fit very well -- it bunches up under my arms and it makes it challenging to gesture dramatically while I'm speaking. And it's too short to wear over a sportcoat, so it looks ridiculous when I try to wear it someplace semi-dressy. Like Tom and Katie's fake wedding.
So I bought a new coat on Wednesday. I had a massive client presentation at 1:30, see, and then I was going to work out and then meet the boyfriend downtown when he got back from a trip. But then I remembered flabby little muscles were the in thing this Thanksgiving season, so instead of working out I headed to Filene's Basement, where the first coat I saw was pretty much exactly what I was looking for: a cashmere topcoat-type thing that was short enough to wear with jeans, long enough to cover a sportcoat and casual-dressy enough to go from a Dick Cheney hunting date to a Mel Gibson movie premiere. Of course, you can't buy the first coat you try on -- which would be positively heterosexual -- so I tried on about 20 other coats, all the while keeping an eye on the first one so nobody would take it.
And then I realized I should try it on over a sportcoat -- you know: just to make sure it was roomy and long enough to cover my flabby body AND all that extra fabric. So I grabbed a particularly fancy midnight-blue velvet sportcoat (something I would normally never even consider wearing) off the nearest rack, and I'll be damned if the thing didn't look fabulous on me. And even though I'm contemplating buying a condo that's a third more expensive than the one I just sold, I threw it on my credit card and headed out the door to meet the boyfriend. All hail the power of irresponsible consumerism!
Wednesday was the four monthiversary of meeting the boyfriend, and we celebrated in high style: dinner in a diner (nothing could be finer) followed by snuggling up at his place with two pints of gourmet ice cream and a TiVo full of "Family Guy" (the Peterotica episode! with Betty White!) and "Desperate Housewives" and, lamentably, "Judge Judy." We did NOT watch any "Judge Judy" episodes, for the record. But I will happily mock him for years to come just for having it on his TiVo.
Now I'm in Iowa, and I may head out soon with my mom and sister to brave the Cedar Rapids "crowds" for some post-Thanksgiving retail therapy. And to model my new coat.